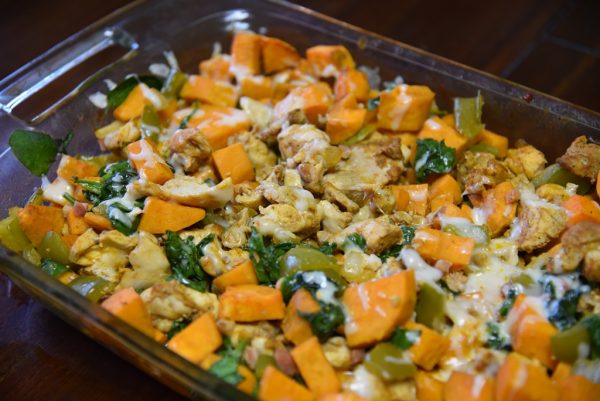 | | |
| --- | --- |
| | |
Preheat oven to 350 degrees.

Heat 1 tbsp of olive oil or ghee, and add the bell pepper and onion. Season with salt and pepper, and saute until soft, about 3-5 minutes. Remove from heat.

In a bowl, mix hot sauce of your choice (6 tablespoons get you a "mild" heat, 4 tablespoons is good for kids, 8 tablespoons is for your heat lovers!), with 1 tbsp of olive oil or ghee, 1 tbsp of paprika, 1 tsp of garlic powder and salt and pepper. Stir in the raw chicken to coat, then add the sweet potatoes. Then stir in the seasoned bell pepper and onion. Mix together in a baking dish, and bake, covered at 350 for 40 minutes. Stir occasionally.

At 40 minutes, remove and add the crumbled bacon and stir in the greens. Cook for another 10 minutes or until the chicken is cooked through and the sweet potatoes are fork tender. Remove from the oven and top with the green onions and another swirl of hot sauce.

Serve with assorted toppings. Pairs nicely with a cold beer!
Make it vegetarian: Use firm tofu or tempeh! Pat your tofu dry, then dice. Meanwhile, heat 1 tbsp of olive oil in a skillet. Season your tofu with salt, pepper, paprika and garlic powder. When the oil is hot, sear the tofu until browned on each side. Stir into the baked sweet potatoes, vegetable and sauce mixture with 10 minutes left.
Weeknight hack: Use rotisserie chicken to reduce your cooking time!