It's normal to have first-day jitters when you start a new job. But what happens when your first day is remote and your onboarding is done virtually? It can be unsettling to start with a new company that has transitioned to a hybrid, mostly remote environment.
This month's My LifeTime Story comes from new employee, Terry Donato, value- based payment account manager in the Southern Tier region. Terry shares how joining the company six months ago during the pandemic and onboarding remotely was indeed different and a bit challenging, but with the help and guidance from the Human Capital Management (HCM) staff, her leadership, and coworkers, coupled with robust onboarding planning, her transition was a rewarding and smooth experience.
Successful Onboarding Experience
"I have found that one of the hardest things about starting a new job is that each company has a culture of its own and that is sometimes hard to discern or figure out. When I joined Excellus BCBS, it was evident from day one that people in this company cared about each other. It was refreshing during my onboarding trainings and discussions that the importance of our company culture was emphasized and tied back to the 7-block strategy and company mission and goals. It was apparent early on that the staff and leadership "walked the talk" and that helped foster my sense of inclusion from the get-go," said Terry.
Southern Tier Activities Club (STAC)
Terry also credits the regional Southern Tier Activities Club (STAC) with getting her acclimated and involved with staff activities and community volunteer events.
STAC is comprised of Southern Tier staff members that meet monthly to help plan events or activities to keep staff engaged, boost employee morale and welcome new staff members to the region.
"I joined the STAC group right away and it was a great way for me to connect with local employees in my region while helping to plan and attend some fun events. The first event that I attended in person was a group outing at the Iron Kettle Pumpkin Farm in October. I was able to meet most of the Southern Tier staff members and enjoy some fall fun events that even included a hayride!" said Terry.
Getting involved with local company sponsored events also helped Terry get acclimated with the company.
"I volunteered at the Greater Binghamton Bridge Run event in September at the Mirabito Baseball Stadium in Binghamton. I was aware of the event but had never
volunteered at it before. I helped work at a booth and gave out logo items to those attending that day. It was a fun opportunity for me to build camaraderie with colleagues and allowed me to help represent Excellus BCBS in the community," Terry added.
My LifeTime Story is a feature each month that highlights employees' personal accounts of how their lives have been enriched by our culture and our values.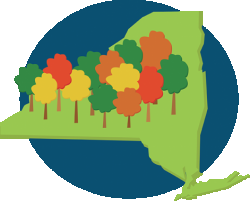 Latest posts by A Healthier Upstate Contributor
(see all)