Anne (pseudonym) often felt pain related to her chronic conditions, including chronic pancreatitis and an autoimmune disorder. But the intense radiating pain had been more problematic lately. She had been hospitalized recently and, despite taking several pain medications, she was still suffering from significant pain related to her chronic conditions. She reached out to her health insurer, Excellus BlueCross BlueShield, for guidance.
Excellus BCBS Care Manager Joanne Richards, RN, answered the call for help. Joanne asked questions to understand Anne's situation and connected her with a specialized provider to evaluate her pain, manage her medications and ultimately get the pain under control. "Managing pain is a critical part of managing certain chronic conditions," Joanne said. "And how we help members address their pain is not a one-size-fits-all approach."
Not Something You "Just Have to Live With"
Anne's experience with lasting pain is not unique. About 1 in 5 U.S. adults experiences chronic pain, or pain that lasts for more than three months, according to the Centers for Disease Control and Prevention.  Pain can also be acute, usually coming on suddenly and lasting for less than three months. Pain can be slightly bothersome or excruciating. For some, pain can become such a problem that it interferes with work and normal daily activities. It can cause depression and irritability.
Pain is a major driver of visits to the doctor, a major reason for taking medications, a major cause of disability, and a key factor in quality of life and productivity. Chronic pain contributes to an estimated $560 billion each year in direct medical costs, lost productivity and disability programs. But pain is not something you "just have to live with."
A Part of Life That Needs to Be Managed
There are many ways to treat pain. The type of treatment depends on the type of pain. Treatment does not have to include prescription medication or procedures like X-rays or surgery. In fact, for certain conditions, like acute lower-back pain, experts usually recommend against imaging tests like X-rays, CT scans, and MRIs.
"While 80 percent of us suffer from acute back pain at some point in our lives, most episodes of back pain go away on their own within six weeks, but then often recur" said Dr. Brian Justice, a chiropractor and medical director at Excellus BCBS. "Back pain is often not caused by a specific known disease that can be cured, but it can be more practically thought of as a part of life that needs to be managed."
Pain Management: A Member-Centric Approach
The goal of pain management is to control the pain while also identifying and treating the underlying issue to help with healing and recovery. Pain management techniques can help reduce pain and improve quality of life – physically, emotionally, and socially.
"When we learn that a member is experiencing pain, we ask lots of questions to learn more about their pain level, how much activity they are doing, and ask about any pain medications they may be taking," said Joanne. "When it comes to treatment, some people may want to try exercise, acupuncture, or work with a chiropractor or physical therapist. We can also connect members with a pain specialist or another medical provider. Treatment is individualized based on what kind of pain they are having – it's member-centric," said Joanne.
Self-Help Options for Managing Pain
We all have a role to play in managing our own pain too. "Because chronic pain impacts the whole person, self-management options acknowledge that the patient's own role in the healing process has the potential to provide more efficient and comprehensive chronic pain management," said Dr. Pat Bomba, MACP, FRCP geriatrician and medical director at Excellus BCBS. "Active self-care therapies allow for a more diverse, patient-centered treatment of complex symptoms, promote self-management, and are relatively safe and cost-effective."
According to CompassionandSupport.org, these options include:
Exercise, yoga, tai chi: Helps reduce tension, anxiety, depression and fatigue
Heat: Reduces pain caused by sore muscles and muscle spasms
Ice: Alleviates pain that comes from joint problems or irritated nerves
Massage: Supports the healing process by breaking down muscle tension and pressure on nerves
Relaxation by deep breathing: Enhances one's ability to cope and control stress
Meditation: Brings awareness to breathing, body sensations and feelings, retraining your brain to feel less pain
Speak up!
If you are experiencing pain and looking for relief, a conversation with your doctor is a good place to start. Acting quickly when pain starts can often prevent it from getting worse.
There's an App for That
Like Anne, Excellus BCBS members can call the Customer Care phone number on their member ID card to find pain management help. Many Excellus BCBS members are also eligible for the free Wellframe® app, which provides access to a dedicated care manager, dietitians, social workers, physical therapists and other health care professionals to help members with issues like pain management, back and neck pain, and migraines. For more information, visit ExcellusBCBS.com.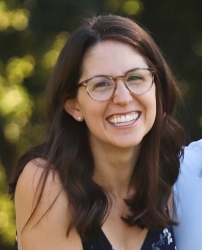 Latest posts by Erika Gruszewski
(see all)