Lynn Johnson knew she should get a colonoscopy. She was 50-years-old, the age when most people should start screening for colon cancer.
"But I was busy at work and I didn't understand the value of the screening," said Lynn of Penfield, New York. "I was probably also a little fearful. I ignored it. Of course, that was a mistake."
Lynn had colon cancer, but didn't know it.
About a year later, Lynn landed in the hospital in excruciating pain. Tests revealed she had a tumor growing in her body that had perforated her colon. Lynn had stage 2 colon cancer. She needed several surgeries to remove the tumor and repair her colon.
Because the tumor had perforated her colon, the risk that the cancer would spread was high. So she also needed chemotherapy in the form of horse-pill sized medications she had to choke down over 10-day periods for the next six months.
"The doctors would have probably caught my cancer earlier if I had a colonoscopy at age 50 like I was supposed to," said Lynn. "I might have avoided a lot of the pain and suffering and skipped the chemotherapy which compromised my immune system."
2nd leading cause of cancer deaths
Lynn's story isn't unusual. About 1 in 3 upstate New York adults between the ages of 50 and 75 haven't been screened for colon cancer, according to research findings from Excellus BlueCross BlueShield.
Regular screenings can detect early-stage colon cancer before symptoms develop. Early detection is important because treatments are more likely to be successful for early- rather than late-stage cancer.
A colonoscopy is the most thorough screening test for colon cancer and is proven to prevent the disease. Removing benign or pre-cancerous polyps during colonoscopy may not only prevent colon cancer, but also reduce deaths from the disease, according to the National Institutes of Health.
Lynn is lucky. She's been cancer free and in good health for just over five years, especially considering that colon cancer is the second leading cause of cancer deaths among U.S. adults. Across upstate New York, 800 people every year die from the disease, according to Excellus BCBS.
The U.S. Preventive Services Task Force recommends adults ages 50 to 75 be screened every 10 years. Individuals who have colon cancer risk factors, including a family history of colon cancer or previous polyps, may need to have their first screening at a younger age and/or more frequently.
Colonoscopies: The test we love to hate
For many people, preparation for a colonoscopy is worse than the procedure itself. The day before, you have to drink a nasty tasting liquid laxative to help clean out your colon and adhere to a clear liquid diet so your doctor has a visible view of  the inside of your colon to spot cancer or any potentially cancer-causing polyps. You'll probably be offered mild sedation to help you relax during the short procedure which is usually done on an outpatient basis.
"But it's completely worth it—especially if it helps you fight off cancer," Lynn said.
There's also good news on the horizon. There are now several other screening tests that may be available to you.
"A colonoscopy is a great way to catch cancers before they develop or to catch them very early," said Dr. Martin Lustick of Excellus BlueCross BlueShield. "But there are alternatives, particularly something called a "FIT test," which is a chemical test on your bowel movement that looks for signs of invisible blood that might be there—one of the early signs of potential cancer."
Recommended screening tests include:
Stool tests: A Fecal Occult Blood Test (FOBT) and a Fecal Immunochemical Test (FIT).
Both tests look for blood in your stool. You can even take the test in the comfort of your own home. These tests are done once a year.
Direct visualization tests: With a colonoscopy, a doctor uses a long, thin, lighted tube to check your entire colon and rectum for polyps or cancer. These polyps can be removed during the test. With a flexible sigmoidoscopy, the physician looks for polyps or cancer in your rectum and lower third of your colon. A sigmoidoscopy is generally performed every five years.
Other screening options may be available. Talk with your doctor about which option is best for you.
Helpful Tip: Colon cancer screenings are covered in full as an 'essential benefit' for most health insurance plans.
Listen to your older brother
Lynn skipped her colonoscopy at age 50, despite the advice of her older brother.
Her brother, who is a few years older, had pre-cancerous polyps removed from his colon during a colonoscopy. He bugged Lynn and her twin sister to get the procedure done.
Lynn's sister got a colonoscopy. But Lynn did not.
"My advice? Get a colonoscopy. It could save your life," Lynn said.
"Oh, and listen to your older brother!" she laughed.
For More Information
Many local and national organizations have pledged support for the National Colorectal Cancer Roundtable's "80% by 2018" goal of having 80 percent of adults aged 50 and older screened for colorectal cancer by 2018.
The NCCRT was founded in 1997 by the American Cancer Society and the Centers for Disease Control and Prevention. If achieved, the screening goal of "80% by 2018" would prevent 277,000 cases of colorectal cancer and 203,000 associated deaths by 2030.
Learn more about colon cancer screening from a viewable and downloadable Excellus BCBS infographic. Learn more about the "80% by 2018" initiative.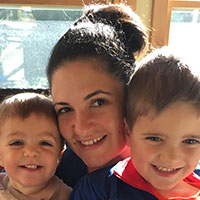 Joy lives in Ontario County with her boys (two sons and her hubby). She runs to stay sane and spends lots of time with her boys splashing in their creek and catching frogs and snails. She is a New England native who promises not to share her sports allegiances, although as an alumna of Syracuse University, she loves (loves) SU sports! Joy is a corporate communications manager at Excellus BlueCross BlueShield.