I trained hard for my first Tough Mudder, a mud run through an obstacle course that included barbed wire and dangling electrical wires.
But a bulky T-shirt almost threw me off my game. I was running with a team, and we ordered identical T-shirts. I didn't try on my shirt until 10 p.m. the night before the race. It was way too big.
You need to wear tightly fitted clothes to compete in a Tough Mudder. A bulky shirt will slow you down, because it will be heavy with mud and get stuck as you're crawling through barbed wire.
Fortunately, my boyfriend ran to the store and bought a replacement shirt while I got some beauty sleep before the big event.
No more race day snafus
Learn from me, and don't go to your next 5k, half-marathon or mud run unprepared! If you bought new running clothes, for example, make sure you try them on long before race day.
I have friends who don't do anything to prepare for a race other than making sure they're able to run the distance. Unfortunately, this has caused a lot of problems.
One friend was late to a very popular race, the Turkey Trot.  Because she arrived late, she had to park far from the starting line. When she arrived, the race had already begun, and she was well behind the other participants.  She hated being the very last participant and did not finish very well.
Here are more tips to help you hit that personal record (PR), tackle a marathon, go from couch to 5k and avoid race day snafus:
The week before the run …
Get enough sleep the entire week before your race. You consistently need to receive a solid amount of sleep if you want to perform well. I personally aim for at least eight hours of sleep a night.
The night before the run…
Avoid intense workouts. Take it easy the day before the event so you can perform your best the next day. An easy run or cross-training is OK.
Don't try any new foods. You don't want to surprise your body, or your body might surprise you. You don't have to load up on carbohydrates the day before a shorter race, such as a 5k. But if you do want to increase your carbs for a longer race such as a marathon, make sure you do so the entire week before the race – not just the night before.
Get ready the night before the race. Have your clothes, race packet and gear ready to go.
Set an alarm. Even if you don't think you'll oversleep, it's better to be safe than sorry.  Look up information on the parking situation before you leave for the event.
Have a plan for your phone and keys, whether it's leaving them with a friend or family member, using a running belt or wearing clothes with pockets.
Hydrate the night before. Keep a water bottle near you and keep sipping. Avoid alcohol.
The morning of the event…
For breakfast, eat whatever you normally would consume before a run and drink water. Toast, fruit, half of a bagel, dry cereal or oatmeal are all great options. Remember to avoid new foods.

Arrive at the race with time to spare. Check in and warm up the same way you normally would before a run.
If things don't go well, that's OK. It's important to embrace the unexpected and be safe. If you're late to a 5k, mud run or marathon, don't try sprinting fast to catch up. You wouldn't want to strain a muscle or slip on wet autumn leaves. No matter what happens, remember to have fun!
Good luck!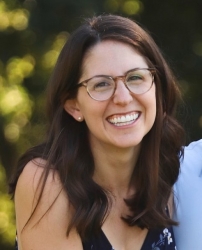 Latest posts by Erika Gruszewski
(see all)